introduction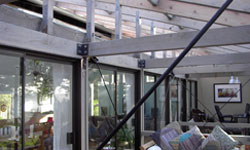 There are two global events converging to create the most significant crisis of modern times. The first of these is the escalating consumption of energy and resulting depletion of fossil-fuel resources. The second major event threatening our planet is global warming. Source: Architecture2030.org
Impact of the first event:
Rapidly increasing costs of energy
Impact of second event:
Life threatening environmental consequences caused by carbon dioxide emissions from fossil fuels that generate 85% of all energy consumption in the U.S.
In response to this, Ekose'a Homes, Inc. offers economical, sustainable, and innovative natural energy conserving home designs that provide a level of interior comfort that cannot be achieved with conventional energy systems.
Ekose'a Homes
Eliminate or drastically reduce costs for heating and cooling
Eliminate or drastically reduce dependence on fossil fuels
Can be built at costs comparable to conventional homes
Can be built using economical and readily available materials
Do not require highly skilled technicians
Do not require new product technologies
Are TIMELESS
By incorporating the gravity-geo-thermal-envelope and other developments in self-sufficient natural energy conserving architecture, existing Ekose'a Homes have proven it is practical to design and build a structure that maintains any desired range of temperatures through any range of climatic conditions at any habitable place on earth, without or with minimal mechanical systems or fossil-fuel energy sources.
The design techniques are rooted in classical physics and used in various ways for centuries. In this respect, the designs of Ekose'a Homes are not new. What is new is the innovative integration of these techniques in the context of contemporary lifestyles.


about ekose'a homes, inc.
Ekose'a Homes, Inc. evolved from the San Francisco born architectural company Ekose'a, founded in 1978 by architects Lee Porter Butler and William Randolph Pearson in San Francisco, California in 1978.
Ekose'a
in ancient Greek philosophy referred to the family, food and shelter as the "essence of being." Ekose'a was organized around this philosophy for the purpose of developing and publishing plans and specifications of homes for ultimate natural energy conserving and efficient living.
Ekose'a provided design and consulting services for the construction of hundreds of double envelope homes throughout the United States and Canada. Widespread distribution of the publication Ekose'a Homes and articles about Ekose'a in newspapers and nationally popular periodicals influenced the design and construction of thousands of similar double envelope homes and other buildings internationally.
Ekose'a Homes, Inc. provides architectural services for the planning and design of individual homes and other buildings for clients who wish to develop unique solutions to meet their individual needs and conditions. It also provides consulting services for the application of Ekose'a concepts to existing homes. As custom designed homes are completed and monitored, they become the basis for publication as stock plans that can be built and adapted to similar site and climatic conditions. Continuous refinements in the concepts are incorporated in the stock plans as new experiences and data become available. The Home Designs included in the Ekose'a Homes Portfolio are the latest offering in this process.
about lee porter butler (1940-2005)
Lee Porter Butler began research and development of natural energy conserving architecture in 1965. In 1975, he developed the gravity-geo-thermal-envelope concept for building design. Following his relocation to south Florida in the early 80's, Mr. Butler created the discipline known as Ekotecture, an expanded vision of Ekose'a and sustainable construction with the goal of encouraging a more comprehensive and integrated holistic environmental design science.
about william randolph pearson
William Randolph Pearson began his career in sustainable architectural design with Lee Butler and Ekose'a in 1978. Mr. Pearson worked side by side with Mr. Butler in the design, production, and on site observation and monitoring of many of the early Ekose'a home designs. Mr. Pearson is a California licensed architect, LEED Accredited Professional, and director of design and operations of Ekose'a Homes, Inc.
about the future
In the foreseeable future, research and development of clean and renewable alternative energy sources will not produce a silver bullet to the current and escalating energy crisis.
Therefore, we cannot deny the necessity of energy conservation and efficiency in everything we do – from working, to traveling, to living in our homes. Future generations rely on decisions we make about how we choose to live and behave in the here-and-now.
To this end, homeowners have a responsibility to renovate, construct, or purchase a home that will conserve natural resources and eliminate or drastically reduce its dependence on fossil-fuel energy sources, thus eliminating or drastically reducing its carbon footprint on the environment.
An Ekose'a Home or an existing home incorporating cost effective Ekose'a concepts and energy conserving strategies are giant steps in that direction.
Making these steps easier and more practical are a groundswell of political will and economic incentives both legislated and market driven aimed at curtailing the energy and climate crisis. On this basis, the prospect of a cost effective and sustainable built environment is achievable and encouraging.
The future of Ekose'a Homes will incorporate solar and wind generated electrical energy, solar water heaters, solar chimneys, water conservation and management systems including living machines for on-site treatment of bio-wastewater and reclamation and reuse of rainwater and household greywater, and other passive technologies to provide all necessary utilities without consuming non-renewable natural resources or polluting the environment. Greenhouse gardening and food production will also be integrated into the Ekose'a Homes living experience.
Ekose'a Homes, Inc. is committed to ongoing research, development, and evaluation of building products and materials focused on increased longevity and reduced life cycle impacts on the environment.
Ekose'a Homes, Inc. also anticipates partnering with product manufacturers, pre-fabricated home manufacturers, builders, developers, architects, and engineers in an effort to improve the cost effective and sustainable qualities of Ekose'a Homes.