Energy Independence With an EKOSE'A HOME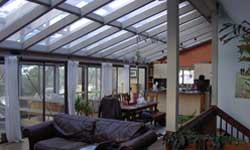 HOUSE PLANS AND DESIGN SERVICES FOR ULTIMATE LIVING COMFORT
how to use our site
SELECT EKOSE'A HOMES DESIGNED FOR YOUR CLIMATE

CLICK on Selection & Modification from the Home Designs menu and review the Selection and Modification Criteria
CLICK on Climate Zones & Design Chart from the Home Designs menu and select your Climate Zone and DESIGNS for your climate
CLICK on DESIGNS from the Design Chart to see detailed information for each Design
REVIEW OUR PORTFOLIO OF EKOSE'A HOMES
CLICK on Portfolio from the Home Designs menu to browse our portfolio of illustrated DESIGNS
CLICK on the DESIGNS to see detailed information for each Design
ORDER PLANS OF EKOSE'A HOMES
NAVIGATE THE MENU at the left or bottom of each page for detailed information about the benefits of The Ekose'a Home, How It Works, Planning a Home, typical Questions and Answers, and Products and Services including Construction Documents and Design Services for Ekose'a Homes.
the ekose'a home - house within a house
Ekose'a Homes can be described as a double envelope design or a "house within a house." In a conventional house, the walls, floors, and ceilings are exposed directly to the extremes of the outside climate. In the Ekose'a Home, the interior and exterior surfaces are separated, creating the gravity geo-thermal envelope, a protective blanket of constantly circulating earth-conditioned air. The interior of the house is thereby isolated from the extremes of the outside climate.

The house "thinks" it is underground. Since the ground temperature remains stable a few feet down and is only a few degrees below the temperature required for human comfort, the heat generated by people, lighting, equipment, and household activities is sufficient to maintain comfortable interior conditions 90% of the time. A couple of bathroom-size heaters are sufficient to provide the additional heat needed during the other 10%, or most extreme winter conditions. In summer conditions, the geo-thermal heat exchange occurs in reverse. The cool temperature of the earth absorbs heat, and earth-cooled natural ventilation is used to exhaust excessive heat gain.